2 ASX Small Caps Set to Run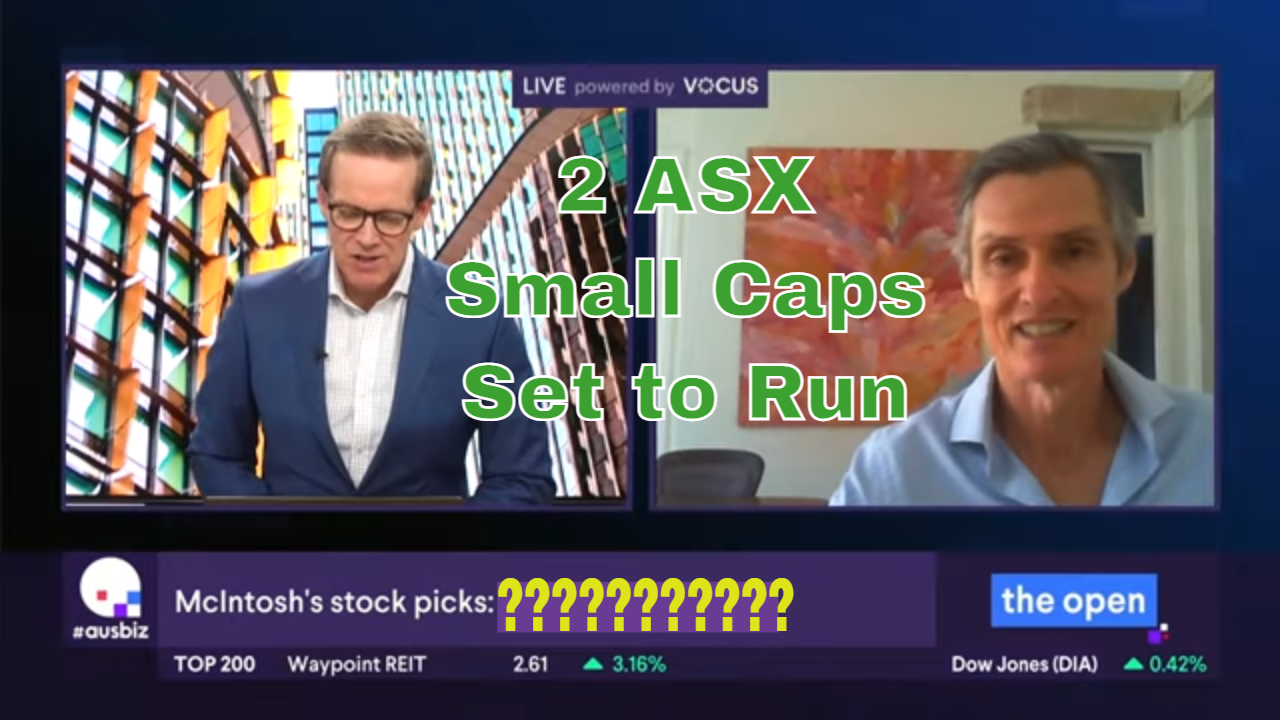 Click here to give a thumbs up or leave a comment
Host: Alright, let's get a couple of stocks and a reader on those. A bit of a deep dive and we get that from Jason McIntosh from Motion Trader. Jason, welcome. Good to talk to you again.
Jason: Andrew. Thanks for having me on. Good to be back.
Host: Alright let's just take a look at the broader market at the moment. You know, I think at the moment is we're just about to enter reporting season. That picture is really complicated at the moment, Given what's going on with COVID and the lockdown in Sydney. What are you going to have on the guidance? Because it may not be forthcoming from some companies because of that uncertainty.
Jason: I think it's generally quite an uncertain market. The trend in the market and the trend in the price action for the All Ordinaries is definitely up. The market broke higher from a 1.5 month consolidation last week. That's all good. But when you look at the US market, it's really all being driven by a few of the mega cap stocks. And that worries me… the lack of breadth in the market that we're seeing. The market is moving higher, but a lot of the stocks aren't participating, so that's always a concern coming into reporting. It's also the seasonally weaker part of the year. So trend's up. You've got to expect that trend to continue. But be aware that underneath the hood, things don't look particularly strong in some areas.
Host: Alright, let's get stock specific then and take a look at a couple that you've been looking at. Atomos is the first one, this is a content creator, of course. Technology company. In fact, its shares have been on a tear. It certainly was in the past month or so. Why are you liking this at the moment?
Jason: This is a really interesting company. It came up on my momentum scans a few weeks ago, and that's what I'm using to find these ideas. I use momentum, so momentum doesn't guarantee you're going to get a superstar stock. But all superstar stocks have momentum so it can help put you in the path of the right companies. So with Atomos, they've got a market cap of about $260 million. They're not in the All Ordinaries, so I guess that probably takes it off the radar for a lot of people, it's one of those stocks which is going to be just naturally, harder to find.
But it's interesting, as you say, it's emerging technology company and what they do they produce monitor recorders that attach to a user's camera. And what happens from there is they can use that monitor to quickly create high quality content at an affordable price. And that content is often used on social media like YouTube. It can also be used for the TV and even cinema, so it's really producing that cinema quality content and output for the everyday user. A key driver for the company has been a new technology, which has been developed by Apple. It's called ProRes RAW and what it does is it compresses large files into a smaller, easy to use format. But it maintains quality. Atomos is the only company which has been licensed to natively record using the technology. Most of the big camera makers are now embracing this ProRes RAW. And as more do so, it increases demand for Atomos' monitors. So it has a really interesting growth area there.
And they've also got an eye on the video gaming and video conferencing markets, as they both require video technology. And what COVID has done, COVID has actually been a bit of an opportunity for the company. Video conferencing was already on the rise. But COVID has really brought that forward, the company says, by maybe 3 to 5 years. So it's an area where there could be significant growth opportunity, and coupled with what they're doing with ProRes RAW and the video monitors, it looks like a really interesting story.
Management just came out with a trading update. They're saying that total sales for the 2020/21 year will be around $77 million, so that's up 73% on last year. It's also about $6.6 million ahead of where some of the analysts' forecasts were, so it's tracking really well and the last half was a real standout. It was up something like 275% on the previous period. So
it's also the strongest half in the company's history, so they're doing some good things financially.
Revenue fell during the COVID period. But when you step back and look at the last few years from 2015, they were growing revenue every year. So they've got a good track record of growth and executing on their plans. They also have a strong balance sheet with $23 million in the back as of the end of December. They're going to release their full year results next month, so we'll get an update on where that stands in. But really, I think this company is well positioned for some good growth over the next few years. And just lastly, management also have a meaningful stake in the company. So that's one of the things I look for in these
emerging companies. You want to see management on board, you want skin in the game. Nothing says management believes in this story better than putting their own money in.
Host: Yeah, absolutely. Putting the money where the mouth is. Alright, that's Atomos, Jason. Let's move to your second one there, ReadyTech. Look, I'm not overly familiar with this one, but it is a SaaS platform for payroll and human services. It did make an acquisition back in March of Open Office. Tell us a bit more about this.
Jason: I hadn't heard of it either. It came up in my momentum scans. It's so interesting. Momentum is a bit like opportunities calling card. It draws your attention to companies like ReadyTech, which you may not have heard of. And then you look behind the momentum, and often you find some really interesting stories, and this is very much a case in point. It has a market cap about $240 million and is just outside the All Ordinaries. So again, for many people, it's not going to be one which is going to be naturally on the radar.
They provide cloud and SaaS based platforms, so SaaS is software as a service and they specialise in payroll and human resources, and they focus across the education and employment sectors. They have around 4000 clients, and these range from small businesses through to large corporations. I really like these SaaS business models because they're typically subscription based. So you don't just download a piece of software and that's it. It's all centrally hosted and you're accessing the service via an app. You subscribe to it, and subscriptions lead to recurring revenues. And the company has been doing really well on that front because something like 89% of their revenue is recurring. And then the key to that is you need to retain your customers, and they're doing a great job of that because they have a 95% retention rate, which is the key to having a successful subscription based business.
Revenue grew around 13% in the last half, up almost $22 million. That's coming from new business and also cross selling to their existing customer base. But what management is saying is that there's this real digital transformation taking place, and they're seeing their customers increasingly shifting from the old technologies over these new cloud based platforms.
They're also growing through acquisition and you mentioned earlier about the Open Office acquisition. So that's a really interesting one. It's an integrated software business that services state and local government and also the justice system, and not just in Australia. They access a global market, and they're saying that these entities are digitising their services at a record rate. So it's opening up a real growth avenue for them. And what's interesting is that Technology One operate in the same space. So Technology One, is an ASX listed with a market cap of $2.9 billion, and Open Office have actually been winning pitches against them. It's always a good sign when the small emerging $240 million company is out playing the big $2.9 billion company. I think that suggests there's real growth potential and in both the pre existing business and the new acquisition.
And lastly, management has a strong shareholding in the company, they own something like
$20 million worth of the shares, which is around 9% of the of the company's capital. I think this is a company which we could hear more about over the next few years.
Host: Terrific Jason. That's two ones to look for, ReadyTech there we've just been speaking of. And Atomos, all tech related. Jason. Thanks for joining us from Motion Trader.
Jason: Andrew it's been a pleasure, thanks for having me on.
Meet Jason
I'm Jason McIntosh, the creator of 
Motion Trader
. My career began in 1991 on the trading floor at 
Bankers Trust
. Nowadays, I trade my own systems from home in Sydney. 
Motion Trader
 is for investors who value robust analysis, data driven entry and exit signals, commentary, and education. I use engineered algorithms to identify when to buy and sell ASX stocks. No biases or guesswork, just data driven signals.